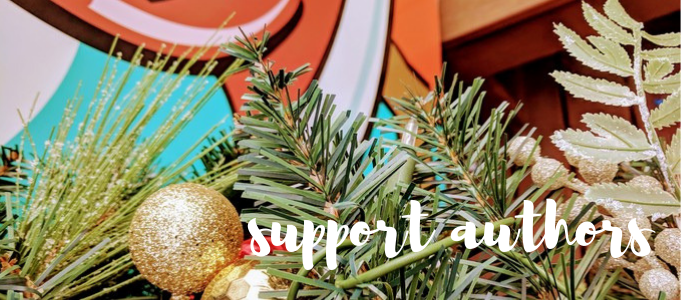 How to support authors this holiday season (without spending a dime)
The holidays! They're stressful. They're expensive. They transform every parking lot into a sixteenth level of Hell and every casual grocery trip into a guarantee you'll have "Rockin' Around the Christmas Tree" stuck in your head for days. But you are no ordinary citizen. You are a lover of literature, a true superhero of feeling. And even though you're broke and frazzled and maybe can't afford to buy a book, you want to support authors in the holiday season. Friends, this guide is for you. Click to expand.
The extremely great human's guide to supporting authors (for free!)
Write positive reviews of their books and share them on your blog, Goodreads, or retail sites like Amazon or Barnes & Noble.
Tell your friends about the book.
Share reading recommendations on social media. If you loved a book, tag the author in your post – they may write back! (Great hashtags include #amreading and #bookstagram.)
Request that your school or public library purchase a copy of the book. If they already have the book, check it out! The more demand for a title, the more likely the library will purchase more, look for more books by the author, and put the book on display. Plus, as explained by the wonderful Kristen Arnett, using your library helps keep your library alive, which is objectively a blessing.
Send a kind note to the author. Many authors have public social media accounts and contact information on their webpages – drop a line! Everyone's human, and you will absolutely make someone's day by saying you love their work, no matter how successful or famous they seem to be. (Seriously. Every writer is a person staring in despair at a computer screen at some point in the day.)
Thanks for giving the gift of kindness this holiday season, y'all. Be merry!